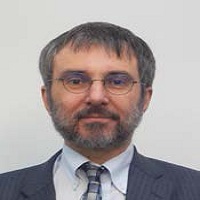 Principle Engineer, Technology R&D
Qualcomm Technologies Inc.
, USA
Biography :
Dr. Ivoyl P. Koutsaroff is a Principle Engineer working on new acoustic materials targeting improvement of microacoustic device performances by lowering their viscous losses and development of improved new piezoelectric materials suitable for high performance RF front-end components, Technology R&D with Qualcomm Technologies Inc., Maitland, Florida, USA. Prior to joining Qualcomm, he has been working at Qorvo Inc. Since 2005, for a decade, he was working as a Principle Research Engineer at New Technology Center, Murata Manufacturing Co., Ltd., Kyoto, Japan, responsible for ferroelectric thin film research, new functional oxides (oxynitrdes) and electrode materials development, process integration and performance improvement of various RF front-end devices (e.g., BST varactors and piezo-MEMS). He was core member of a national join collaborative project supported by the Japan Society for the Promotion of Science (JSPS) for development of tunable SAW filters combined with BST varactors monolithically integrated on the same chip. Dr. Koutsaroff has given invited lectures at ISIF Symposia, MRS Symposia, FMA, ISAF, Ceramics Society of Japan, ICC3, ISSP, WCAM-2013, WCSM-2015, E-MRS 2015, etc. conferences as well various industrial R&C Centers in Japan, USA, Canada, Germany, France and Switzerland, co-edited proceedings in the ferroelectric thin films field, and he holds more than 40 patents in areas such as high density thin film capacitors, oxynitride perovskites materials and tunable SAW filters. He is a member of the IEEE, the Materials Research Society (MRS), the American Chemical Society (ACS), and the Electrochemical Society (ECS). He also an Editorial Board Member of AU Journal of Technology, Assumption University, Thailand. Regular referee for JAP, APL, APL Materials, J Chem Phys, American Institute of Physics (AIP) publications.